The development of a new welfare-friendly training method
The aim of this study was to evaluate the effect of a systematic, core muscles stimulating and stress-relieving riding method on the horses' behaviour. Furthermore, its relationship to head and neck position, pain sensitivity and muscle tone before and after the training, and the biomechanical movement patterns of the horses during the training were analysed. It was hypothesized that a deeper head and neck position results in increased positive behaviour signals, while it's predicted that the horses will have a decrease in pain sensitivity and a release in muscle tone.
The training method includes a lungeing and riding session in which the horses are stimulated in their natural movements patterns, meaning with their head and neck positioned as if grazing. High speed cameras and inertia motion unit sensors were used to evaluate the behavioural parameters, as well as the biomechanical (pro- and retraction range of motion) parameters during the training. Algometry and the Bjerke-method were used to evaluate pain sensitivity and muscle tone.
The positive behaviours increased significantly relative to a lower head and neck position. Willingness to work, ability to work and quality of gait increased through the training session. Pain sensitivity and muscle tone went down and there was a significant difference in the back area. It is concluded that this training method puts the horses in a positive mental state, reveals signs of physical improvements and has a positive effect on the horse's welfare throughout and after the training.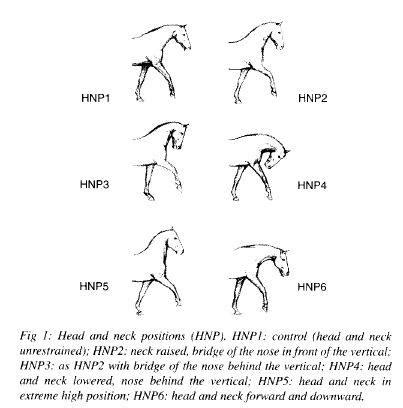 Expert opinion by Isabeau Deckers

Training of equine athletes should be benefiting the horse both physically as mentally. Based on current research about animal learning theories and about the effect of (forced) body postures on physical and mental parameters in the horse, the discussed training method in this paper is reasonably essential in the training of our modern sport horses. It stimulates the horse to move through its spinal range of motions in a relaxed and natural way (see figure extra media HNP 6). Based on this study, it can be stated that stimulating this movement pattern is a welfare-friendly training method for the general sports horse.